Qualifying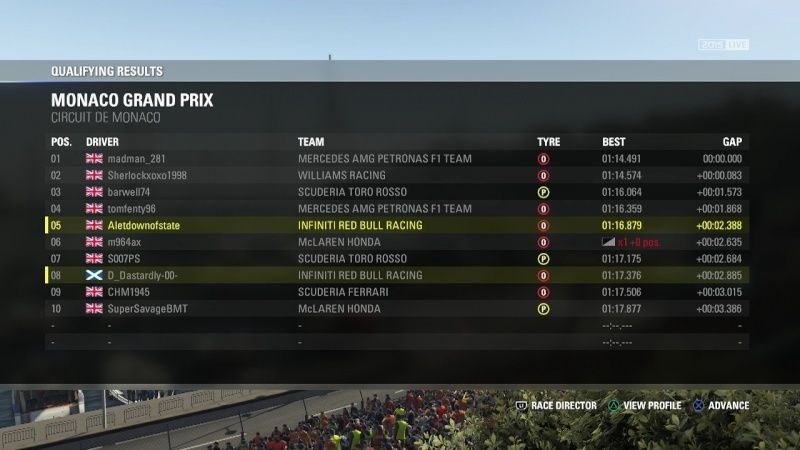 _________________
Not quite Bernie Ecclestone Liberty Media.

YouTube

General League Overlord
Mercedes AL3 S2 Constructors Champion
Mercedes AL3 S3 Constructors Champion
Mercedes AL2 S4 Constructors Champion
Ferrari AL2 S7 Constructors Champion
AL3 S3 Drivers Champion
BMW Z4 GT Sprint Series S1 Teams Champion

Anyone got the race result screenshot?
_________________
---
F1 2017 Drivers Champion AL2 S9
PROJECTCARS////Sprint Series 1 GT3 Drivers Champion
F1 2016 Drivers Champion AL2 S7
Scuderia Ferrari F1 2016 Constructors Champion AL2 S7
F1 2014 Drivers Champion AL2 S4
Mercedes AMG Petronas F1 2014 Constructors Champion AL2 S4
Mercedes AMG Petronas F1 2013 Constructors Champion AL3 S3

McDASTARDLY-00-




Posts

: 1339


Join date

: 2013-06-03



I do saved on the PS4, I need to upload it. I've only just got site access back, that weird ass domain thing had me locked out until now.
_________________
Not quite Bernie Ecclestone Liberty Media.

YouTube

General League Overlord
Mercedes AL3 S2 Constructors Champion
Mercedes AL3 S3 Constructors Champion
Mercedes AL2 S4 Constructors Champion
Ferrari AL2 S7 Constructors Champion
AL3 S3 Drivers Champion
BMW Z4 GT Sprint Series S1 Teams Champion

thought it'd crashed & burned there for a while,

now tho.
_________________
---
F1 2017 Drivers Champion AL2 S9
PROJECTCARS////Sprint Series 1 GT3 Drivers Champion
F1 2016 Drivers Champion AL2 S7
Scuderia Ferrari F1 2016 Constructors Champion AL2 S7
F1 2014 Drivers Champion AL2 S4
Mercedes AMG Petronas F1 2014 Constructors Champion AL2 S4
Mercedes AMG Petronas F1 2013 Constructors Champion AL3 S3

McDASTARDLY-00-




Posts

: 1339


Join date

: 2013-06-03



Similar topics
---
Permissions in this forum:
You
cannot
reply to topics in this forum