Post any appeals here and evidence.
_________________
Not quite Bernie Ecclestone Liberty Media.

YouTube

General League Overlord
Mercedes AL3 S2 Constructors Champion
Mercedes AL3 S3 Constructors Champion
Mercedes AL2 S4 Constructors Champion
Ferrari AL2 S7 Constructors Champion
AL3 S3 Drivers Champion
BMW Z4 GT Sprint Series S1 Teams Champion

cant get past ? just bulldoze your way thru! that works.
snoop cant get past after trying and failing for 4/5/6 laps so loses patience jams it up the inside too hot with no intentions of slowing down for the corner and uses me as his brakes or some sort of moving crash barrier . i quit because i was angry as this is the 2nd race the same "driver" could not overtake cleanly and caused a collision

rant over c u in Monaco

TheDude36_0




Posts

: 5


Join date

: 2016-08-30



Sticking to the facts - I gave as much room as possible which is shown throughout the whole clip.  You actually moved on me in the braking zone on a previous lap but I put that down to your failing tires.
If you look in the right mirror you can see that I was committed and I was side-by-side If you look closer I was actually not visible in the mirror due to being side-by-side.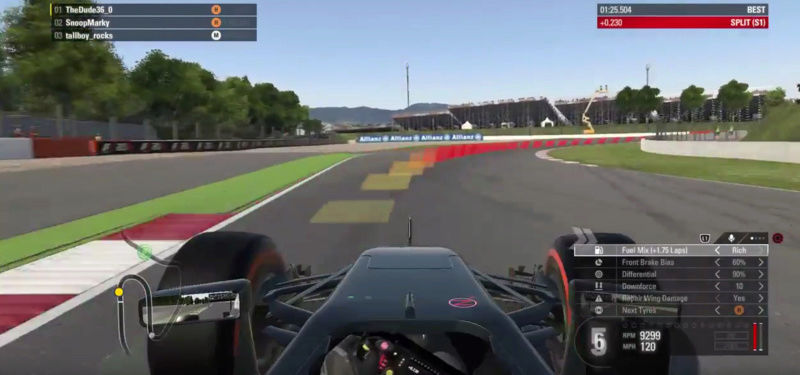 Last edited by SnoopMarky on Tue Nov 01, 2016 7:55 pm; edited 2 times in total
This is not a discussion thread. The only thing that is needed is a short explanation and a video. if you two want to get salty with each other, take it to PM's/PSN.
_________________
Not quite Bernie Ecclestone Liberty Media.

YouTube

General League Overlord
Mercedes AL3 S2 Constructors Champion
Mercedes AL3 S3 Constructors Champion
Mercedes AL2 S4 Constructors Champion
Ferrari AL2 S7 Constructors Champion
AL3 S3 Drivers Champion
BMW Z4 GT Sprint Series S1 Teams Champion

---
Permissions in this forum:
You
cannot
reply to topics in this forum