Qualifying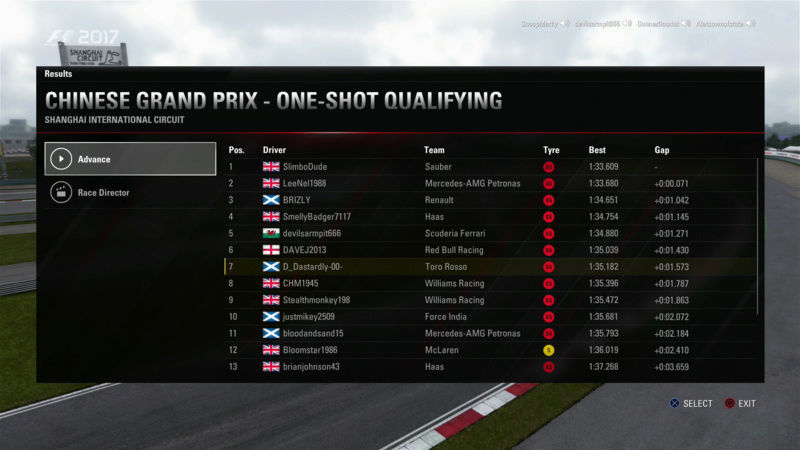 Race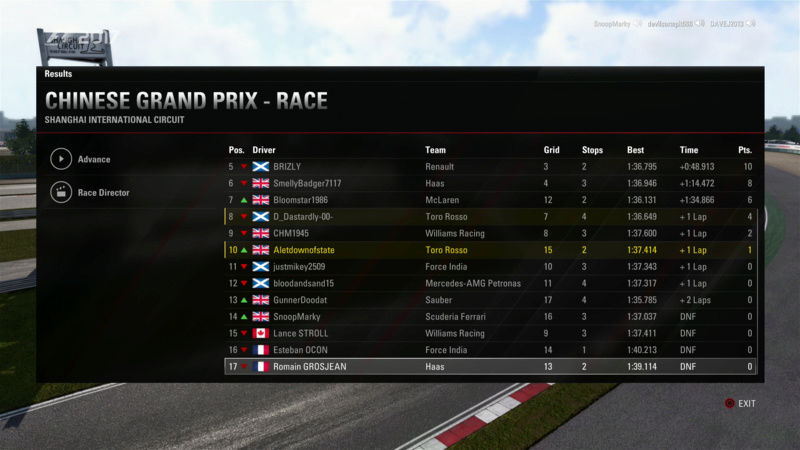 _________________
---
F1 2017 Drivers Champion AL2 S9
PROJECTCARS////Sprint Series 1 GT3 Drivers Champion
F1 2016 Drivers Champion AL2 S7
Scuderia Ferrari F1 2016 Constructors Champion AL2 S7
F1 2014 Drivers Champion AL2 S4
Mercedes AMG Petronas F1 2014 Constructors Champion AL2 S4
Mercedes AMG Petronas F1 2013 Constructors Champion AL3 S3

McDASTARDLY-00-




Posts

: 1399


Join date

: 2013-06-03



Bit of confusion with Results screen from China GP. It shows CHM1945 in 9th place & Aletdownofstate in 10th.
CHM received 2 x 5 sec penalties for ignoring blue flags = 10 secs to be added to race time. 1 on lap 46, 1 on lap 47.
Aletdownofstate received 1 x 5 sec penalty for ignoring blue flags on lap 47 to be added to race time.
They both crossed the finish line on lap 55 within 0.7 secs of each other but the final result screen shows otherwise.
This will be adjusted in the Standings points wise.

Race finish & RD attached.



Clip showing distance from Aletdownofstate to CHM over the finish line.


_________________
---
F1 2017 Drivers Champion AL2 S9
PROJECTCARS////Sprint Series 1 GT3 Drivers Champion
F1 2016 Drivers Champion AL2 S7
Scuderia Ferrari F1 2016 Constructors Champion AL2 S7
F1 2014 Drivers Champion AL2 S4
Mercedes AMG Petronas F1 2014 Constructors Champion AL2 S4
Mercedes AMG Petronas F1 2013 Constructors Champion AL3 S3

McDASTARDLY-00-




Posts

: 1399


Join date

: 2013-06-03



Similar topics
---
Permissions in this forum:
You
cannot
reply to topics in this forum